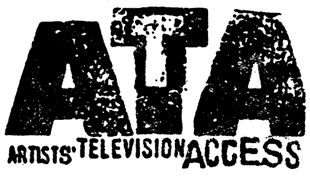 Artists' Television Access
Weekly Newsletter
Coming Up This Month
Saturday, April 21, 2018, 8:30 pm, $7
APRIL21: COLBURN + GALLAGHER + GEISER + QUILLIAN +
For the second of our SisPics diptych, AND to close our animation double-header, we've assembled a veritable mothership of animators–almost all women—making this showcase a regular on OC calendars! Featured is the West Coast debut of Martha Colburn's Rotterdam-selected Western Wilds, her account of Karl May–the German writer who made the Western novel a fixture on European bookshelves–that turns into an auto-bio revelation of Martha's own upbringing as a hick kid surrounded by guns. ALSO premiering are Kathleen Quillian's (in person) Confidence Game, Ellie Vanderlip's (in person) Egg Tree, Kelly Gallagher's Your Gossip, Salise Hughes' Eldorado, Leslie Supnet's The Peak Experience (US Premiere), Abbey Luck's It's the Dsytopian Future, and the recent Silent Sister by none other than Janie Geiser! PLUS chestnuts from Helen Hill, Sally Cruikshank, and Mary Ellen Bute…and a couple from the boys–Ben Popp's Sexy Noir and Winston Hacking/Andy Shauf's The Worst in You.
Friday, April 27, 2018, 7:30 pm, $10 General/$5 Members
SF Cinematheque presents:
Malena Szlam In Person
Presented in association with Communication and Media Studies Department at Sonoma State University and Los Angeles Film Forum
"Malena Szlam's films are meticulously assembled using a menagerie of techniques to physically alter the film elements resulting in dreamlike, collaged, flickering images leaving viewers with a sense of wonderment, displacement and an expanded sense of time. Szlam's careful construction of her works serves to ground and guide viewers on a serene journey through these brief and powerful cinematic experiences." (Los Angeles Film Forum)
A member of Montréal's Double Negative Collective (dedicated to the creation of "cinema of the eye, hand and heartbeat"), Chilean filmmaker Malena Szlam works at the intersection of cinema, installation, and performance, creating silently sensual films (to be presented in 16mm, Super-8 and digital video formats) fusing personal revelations of natural visual phenomena and a sensitivity to non-synchronic time with the poetics of the analog cinema apparatus. This very special in-person appearance (part of a rare west coast tour for the artist) will include works screened in 16mm, Super-8mm and digital video formats including works in progress and special sneak-preview works.
SCREENING TO INCLUDE:
Chronogram of Inexistent Time (Cronograma de un tiempo inexistente) Chile, Canada | 35mm to digital | colour | silent | 6:00 min. | 2008
Chronogram… is a photomontage that explores stillness, motion, and memory. Using a 35mm still camera, multiple exposures were composed and edited in-camera, creating frameless sequences of images printed on 35mm filmstrips. When projected, these images become a non-linear, non-synchronized collage. The ephemeral quality of the images—their transparency, layering, and repetition—invites us to reflect on the role memory plays in perception, the ways we mentally reconfigure fragments to construct stability and meaning in an environment of perpetual flux.
Rhythm Trail Chile, Canada | Super 8mm | colour | silent | 10:00 min. | 2010 – 2011
Like notes written in a diary, Rhythm Trail is an open-ended film composed of a series of Super 8mm sketches edited in-camera. These collected notes are traces of moments and places that reflect on the immediacy of sight.
Anagrams of Light (Anagramas de luz) Canada | Super 8mm | colour | silent | 2:45 min. | 2011
Light breaks the darkness in playful rapture—a film dedicated to my dear friend Javiera.
Beneath Your Skin of Deep Hollow (Bajo tu lámina de agujero profundo) Canada | Super 8mm to 16mm | colour | silent | 3:40 min. | 2010  
Beneath Your Skin of Deep Hollow translates night and water into arrhythmic movements of light in a fugue of colours. Shifting impressions emerge on the surface of an agitated stillness, while darkness illuminates reflections and sight.
Lunar Almanac Canada | 16mm | colour | silent | 4:00 min. | 2013
"Lunar Almanac initiates a journey through magnetic spheres with its staccato layering of single-frame, long exposures of a multiplied moon. Shot in 16mm Ektachrome and hand processed, the film's artisanal touches are imbued with nocturnal mystery." (Andréa Picard, TIFF Wavelengths, 2014)
Lunar Almanac traces the observational points of the lunar cycle in a series of visual notations. Using single-frame and long-exposure photography, the unaltered, in-camera editing accumulates over 4000 layered field views of half-moons, new moons, and full moons. These lunar inscriptions flit across the screen with a frenetic energy, illuminating nocturnal reveries that pull at the tides as much as our dreams.
Morfología de un sueño (Morphology of a Dream) USA, Canada | 16mm | colour | silent | 5:45 min. | 2015
Morphology of a Dream is a visual study of the rhythms of sleep cycles during the phase of rapid eye movement. Filmed in the forest in Colorado, Morfología explores an oneiric world that expresses place and memory in a fleeting succession of colors and sensations hovering between the "real" and abstract worlds.
Advance tickets available here.
Saturday, April 28, 2018, 11:00 am, Free
USA Poetry: Allen Ginsberg & Lawrence Ferlinghetti (Richard O. Moore, 1966) black & white, 30 minutes
Upon returning home from a year in New York, learning techniques from Albert Maysles and other cutting-edge documentarians, San Francisco poet and KPFA co-founder Richard O. Moore began making dozens of cinema verite films for KQED, most prominently a 1963 James Baldwin profile called Take This Hammer. In 1966, he directed eleven films about American poets, including this dual portrait of two San Francisco literary heroes. Ginsberg's seen at peak-beard in Berkeley, North Beach, and the Mission, having recently been deported from Cold-War era Czechoslovakia. He recites a poem about this incident, and several others including (for the first time on film) "Howl", which brought so much attention to the Beat movement a decade before. "Howl" publisher Ferlinghetti grabs the spotlight for this film's final section; he takes his pet Homer for a walk from his Potrero Hill home to North Beach and Chinatown, where he stands against a brick wall reciting his famous anti-establishment verse "Dog".
James Weldon Johnson (
Stuart O'Brien
, 1972) color, 12 minutes
The multifarious achievements of Harlem Renaissance writer, educator, statesman & civil rights activist James Weldon Johnson are summarized in this short biographical documentary. The film concludes with a reading by 
Raymond St. Jacques of one of Johnson's best-known poems, 1927′
s "The Creation," set against prismatic nature imagery befitting its spiritual theme.
…I Told You So (Alan Kondo, 1974) black & white, 18 minutes
One of the first films made by the Asian-American media collective known as Visual Communications, …I Told You So is a vibrant vérité portrait of poet Lawson Fusao Inada as he revisits his childhood home in Fresno, California's multi-ethnic Chinatown, where his grandparents ran a popular fish market both before and after World War II. He also visits one of the internment camps where his family was confined during those years, and speaks about how that experience became, along with jazz music, one of the defining influences on his poetry.
Saturday, April 28, 2018, 8:30 pm, $7
APRIL28: JESSE DREW/NEWSREEL + JOSHUA HARPER/FREAK TV +
For our Maypole party, we're sprouting radical cinema seeds planted by the heroic 16mm film collective Newsreel (50th anniversary!). Jesse Drew himself rolls in from Davis to intro these guerrilla pieces from the 60s/70s, when the collective became the de facto chronicler of the revolutionary moment. He'll highlight clips from the 1969 Amerika (street battles in the heart of the beast), and People's War (shot in Vietnam), plus Off the Pig (on Black Panthers), SF State Strike, and Santiago Alvarez' Cuban cornerstone Now! Carla Leshne shares an earlier history, that of the Workers' Film and Photo League. ALSO: Our East Bay brother Joshua Harper(Berkeley Comm. Media) details a video history of the democratic urge within the TVmedium—pirates, activists, artists, and nudists taking over the airwaves, from the first 60s experiments to the current cutting-edge of online transmission, including Portapacks, Public Access, Paper Tiger, micro-broadcasting, Youtube and the false promises of internet television. Come early for Ben Folstein's It's the Dsytopian Future, Andre Perkowski's/Hardy (Residents) Fox' Save Me From Trump, Pussy Riot short, anti-GOP jams (including Ellie Vanderlip's new one), and free bread, and red roses.
Window Installations
Monday, April 30, 2018, 8:03 pm
Crystal Vielula
Queer Movie Stills
Reception: April 25 6-8pm
Crystal Vielula is a San Francisco based artist and art educator. She is the maker of cheeky coloring books, paintings, collages and the celebrated queer pride mural in Clarion Alley.
This work is part of a Queer Movie Stills series that plays with iconic romantic scenes from popular movies transforming them into queer love stories. Because it's hard to find representation of happy queer love in popular media we need to create it in our imaginations.
You can see more of her work on her website: https://www.crystalvielula.com/
or on instagram @crystalvielula

About Artists' Television Access
Artists' Television Access is a nonprofit 501(c)(3) artist-run screening venue and gallery located in the heart of San Francisco's Mission District. ATA is supported in part by Grants for the Arts/San Francisco Hotel Tax Fund, The Christensen Fund, individuals members, donors and volunteers.

CELEBRATING 25 YEARS OF EXPERIMENTAL MEDIA: Join ATA as a member and receive exciting gifts, including the 2008 DVD compilation, T-shirts, and free admission to screenings and more! Artists on the 2008 DVD compilation include: Yin-Ju Chen, Mike Rollo, Marthaxiv, Sam Manera, Wago Kreider, Federico Campanale, Paul Clipson and Carl Diehl. http://www.atasite.org/membership/
How to Reach Us:
Artists' Television Access
992 Valencia Street (at 21st)
San Francisco, CA 94110
(415) 824-3890
[email protected]
Gallery is open before and after screenings for viewing.
Screenings start at 8pm unless otherwise noted.
Directions: Take Bart to 24th Street Mission. Walk 1 block east to Valencia and 3 blocks north. ATA is located between 21st and 20th Streets.