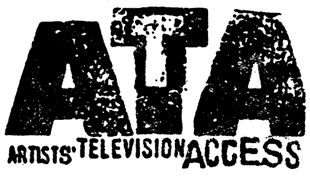 Artists' Television Access
Weekly Newsletter
Coming Up This Month
About Artists' Television Access
Artists' Television Access is a nonprofit 501(c)(3) artist-run screening venue and gallery located in the heart of San Francisco's Mission District. ATA is supported in part by Grants for the Arts/San Francisco Hotel Tax Fund, The Christensen Fund, individuals members, donors and volunteers.

CELEBRATING 25 YEARS OF EXPERIMENTAL MEDIA: Join ATA as a member and receive exciting gifts, including the 2008 DVD compilation, T-shirts, and free admission to screenings and more! Artists on the 2008 DVD compilation include: Yin-Ju Chen, Mike Rollo, Marthaxiv, Sam Manera, Wago Kreider, Federico Campanale, Paul Clipson and Carl Diehl. http://www.atasite.org/membership/
How to Reach Us:
Artists' Television Access
992 Valencia Street (at 21st)
San Francisco, CA 94110
(415) 824-3890
[email protected]
Gallery is open before and after screenings for viewing.
Screenings start at 8pm unless otherwise noted.
Directions: Take Bart to 24th Street Mission. Walk 1 block east to Valencia and 3 blocks north. ATA is located between 21st and 20th Streets.