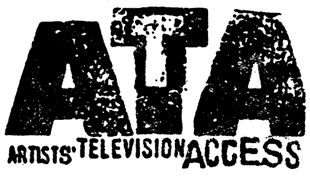 Artists' Television Access
Weekly Newsletter
Coming Up This Month
Friday, November 24, 2017, 8:00 pm
Capitalism has been the engine of unprecedented economic growth and social transformation. With the fall of the communist states and the triumph of "neo- liberalism," capitalism is by far the world's dominant ideology. But how much do we understand about how it originated, and what makes it work?
CAPITALISM is an ambitious and accessible six-part documentary series that looks at both the history of ideas and the social forces that have shaped the capitalist world.
Blending interviews with some of the world's great historians, economists, anthropologists, and social critics (view the complete list of participants), with on-the-ground footage shot in twenty-two countries, CAPITALISM questions the myth of the unfettered free market, explores the nature of debt and commodities, and retraces some of the great economic debates of the last 200 years.
Each fifty-two minute episode is designed to stand alone, making these ideal for classroom use or as an additional resource for students:
Episode 1: Adam Smith, The Birth of the Free Market
Capitalism is much more complex than the vision Adam Smith laid out in The Wealth of Nations. Indeed, it predates Smith by centuries and took root in the practices of colonialism and the slave trade.
Episode 2: The Wealth of Nations: A New Gospel?
Adam Smith was both economist and moral philosopher. But his work on morality is largely forgotten, leading to tragic distortions that have shaped our global economic system.
Saturday, November 25, 2017, 8:30 pm, $7
TRUMP/PUTIN + POITRAS + MANNING + KHALIL + PIÑATA!
A communal Trump–piñata-pounding (!) joins the two hemispheres of this double-header—powerful and poetic film commentaries, sounding out contemporary issues in both the international relations sphere and in the Americas. The opening  "global" set premieres Max (Pussy Riot: A Punk Prayer) Pozdorovkin's hilarious Our New President, Laura Poitras' chilling Project X, and Elizabeth Lo's soul-shattering Hotel 22, plus briefs by Kelly Gallagher and Dominic Gagnon. Post-piñata, the program rallies under the No-Thanks Giving rubric, with four enlightened cine-essays by and on Native Americans: Caitlin Manning's (in person) Zapatista-centered Dispatches from Mexico, Jackson Polys & Adam and Zach (Inaate/Se) Khalil's Violence of a Society without Secrets, Sky Hopinka's Visions of an Island, and Bochay Drum's anti-DAPL Spotlights and Bonfires. Come early for Thad Povey's partisan busking!
Window Installations
Thursday, November 30, 2017, 9:42 am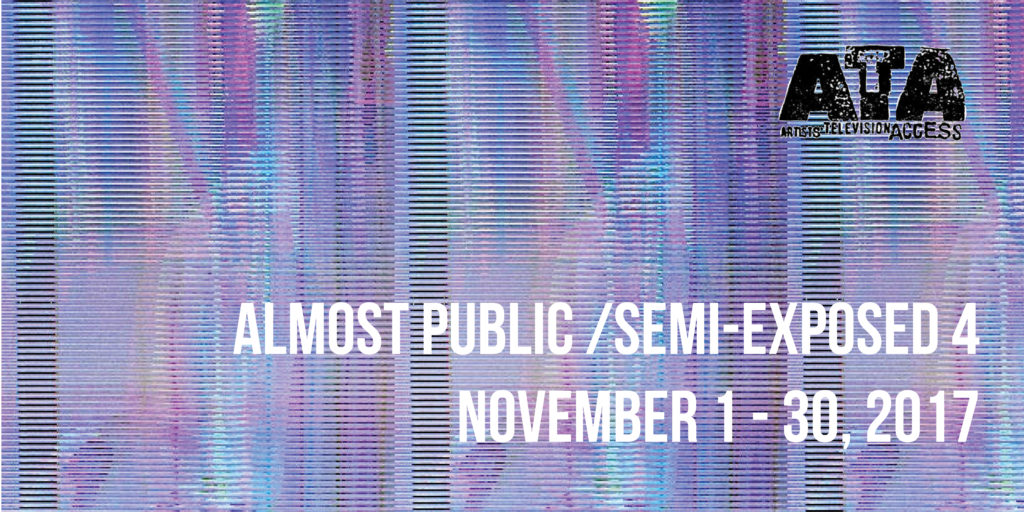 The Artists' Television Access Window Gallery in San Francisco presents Almost-Public/Semi-Exposed 4, our fourth annual month-long series of installed performance art.
From November 1st – 30th we'll be hosting live performance in the window– admission is free and easy, just walk on by @ 21st and Valencia.
Thursday, November 2, Dawn-Done: Suki O'Kane, performing Erik Satie's "Vexations" with Rae Diamond
Saturday, November 11, 4-8PM: "Wanna See it Whole?", Princess VuVu
Saturday, November 18: "Pound of Flesh", Melissa Koziebrocki
Sunday, November 19, 2-5PM: "Drawing Sound" Fred Frith and Heike Liss
Friday, November 24, 12-5PM: "Our Sophisticated Denial", Jen Fedrizzi & Kat Culture
Saturday, November 25, 12-9PM: "FsHB ATA17", Alfred Hernandez & Claire Bain
Sunday, November 26, 1-5PM: "Composing Body, Alexa Eisner & Kevin Friedrichsen
Thursday, November 30, 6-7PM: "Future Speak" Stella Fontinella (Laura Elayne)
Detailed Schedule:
November 2, All Day
Erik Satie's "Vexations"
Suki O'Kane and Rae Diamond, with live streaming on sfSound Radio
November 11, 4-8PM
Wanna See it Whole?, Princess VuVu

Princess VuVu invites you to an UNFILTERED UNCENSORED public engagement with her this Saturday! She'll bring her own twisted version of the Red Light District to San Francisco's Valencia street in attempt to temper with the invisible boundaries existing within todays society.

PRINCESS VUVU!!! Accepted by some, revered by many, despised by the dime, and has provided multiple wet dreams to the hungry! The nature of her perversions have notably instigated a backlash of boundary-less invasions. COULD IT BE POSSIBLE SHE IS A HUMAN POSSESSED BY THE COMPLEXITIES OF ALL HUMANS??? She'll be taking this matter public performing an interactive piece in the window of ATA for their annual Almost Public/Semi-Exposed performance art series. Instead of DM-ing her your dick picks let's take this to the streets.

November 18
Pound of Flesh, Melissa Koziebrocki
November 19, 2-5PM
"Drawing Sound"
Fred Frith and Heike Liss
A site-specific version of Drawing Sound during which Frith will generate soundscapes, while Liss will create (and possibly erase-create-erase-
create etc.) her Klangbilder – or: sonic images – on the window, as well as on the back wall. During the performance, which will last several hours, both artists as well as their equipment will be in the window, visible and audible from the street.
November 24, 12-5PM
"Our Sophisticated Denial"
Jen Fedrizzi & Kat Culture
A commentary on the cultural creation of waste products
It seems nearly impossible to purchase items that do not come with some kind of disposable waste product these days or to walk down the street without seeing garbage on the sidewalks or in gutters. Our modern culture continues to create an unmanageable amount of refuse garbage that contributes to disastrous effects on our oceans, waterways, marine animals, landfills, and feeding a culture of immediacy and impermanence. Consumerism fuels a fire that is burning up our planetary resources in exchange for plastic products and a single use mentality.

November 25, 12-9PM
FsHB ATA17
Alfred Hernandez & Claire Bain
In this durational performance over 9 hours we present a continuous stream of changing identities created by altering our clothing and accessories. The material for our creation lies just outside the defined box of our tiny theater, and the audience passing by witnesses the transformation. This is the current format we are using in our work: in a space that is configured with minimal background, we use a tape line on the floor to delineate the performance space from the clothing, wigs, fabric, makeup, and other items we use to clothe ourselves as we express characters through gesture, body, and facial expression.
November 26, 1-5PM:
Composing Body, Alexa Eisner & Kevin Friedrichsen
Performance artist Alexa Eisner and musician Kevin Friedrichsen collaborate in a multidisciplinary communication experiment. Kevin composes modular synth loops incorporating sound from the dance and painting of Alexa's performance, creating a live conversation between body, material, technology and sound.
Check out www.alexaeisner.com and https://soundcloud.com/density for more information.
November 30, 6-7PM
Future Speak
Stella Fontinella.
Future Speak presents Stella Fontinella as a switchboard
operator in the midst of a rare moment where she is communicating with the past and future simultaneously. The set includes a large faux switchboard, rolling chair, and tv on a table facing the street. As she connects and disconnects, the tv magically changes images accordingly. The scene begins in a routine fashion as Stella answers calls and connects them, tv visuals ensue. Over the course of the performance the communications get more intense, ultimately Stella becomes entangled in Time, both literally and figuratively.
About Artists' Television Access
Artists' Television Access is a nonprofit 501(c)(3) artist-run screening venue and gallery located in the heart of San Francisco's Mission District. ATA is supported in part by Grants for the Arts/San Francisco Hotel Tax Fund, The Christensen Fund, individuals members, donors and volunteers.

CELEBRATING 25 YEARS OF EXPERIMENTAL MEDIA: Join ATA as a member and receive exciting gifts, including the 2008 DVD compilation, T-shirts, and free admission to screenings and more! Artists on the 2008 DVD compilation include: Yin-Ju Chen, Mike Rollo, Marthaxiv, Sam Manera, Wago Kreider, Federico Campanale, Paul Clipson and Carl Diehl. http://www.atasite.org/membership/
How to Reach Us:
Artists' Television Access
992 Valencia Street (at 21st)
San Francisco, CA 94110
(415) 824-3890
[email protected]
Gallery is open before and after screenings for viewing.
Screenings start at 8pm unless otherwise noted.
Directions: Take Bart to 24th Street Mission. Walk 1 block east to Valencia and 3 blocks north. ATA is located between 21st and 20th Streets.