Marshall Weber is a conceptual interdisciplinary artist and educator. In 1968 he refused to pledge allegiance to the flag in his fourth grade homeroom class as a personal protest against the U.S. invasion of Vietnam. Since leaving ATA in 1991 Marshall has taught art, video and performance at the Univ. of Wisconsin in Madison, the Chicago Art Institute and is currently lecturing at NYU's Art Dept. In June 1998 he will perform at the Edmonton, Canada Visual Arts Festival for 24 continuous hours in a 22 feet long refridgerator truck kept at zero degrees Fahrenheit. Pictured below is his collage "Mickey Dollar" from 1990.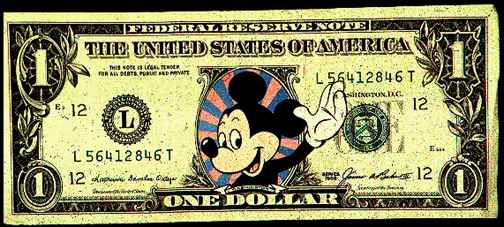 Here is an excerpt from Marshall's 1996 Artist Statement:
I describe myself as a conceptual artist who collages images, materials, found objects, myself, people, emotions, organizations, institutions, and beliefs; in the hopes of producing moments of aesthetic, spiritual, and social justice. I don't have any particular discipline or style. My creative intentions range from extremely personal expression to responsible direct social action. I have engraved "Jesse Helms" on a live 75 millimeter bullet and shit it out my asshole, as well as co-founding a community media/visual arts space in San Francisco (Artists' Television Access). I once made a little junkie out of bubble gum ("Bubble Junkie") and I hang myself upside down on the first day of many of the performance classes I teach. I wore a jacket of dollar bills in Moscow's Red Square ("Harbinger"), and I sat in the middle of San Francisco's busy Market Street blocking automobile traffic and thrust a peace sign into the air during the Gulf War of '91. These are all actions of live/life assemblage.