Friday, July 3, 2015, 8:00 pm, $10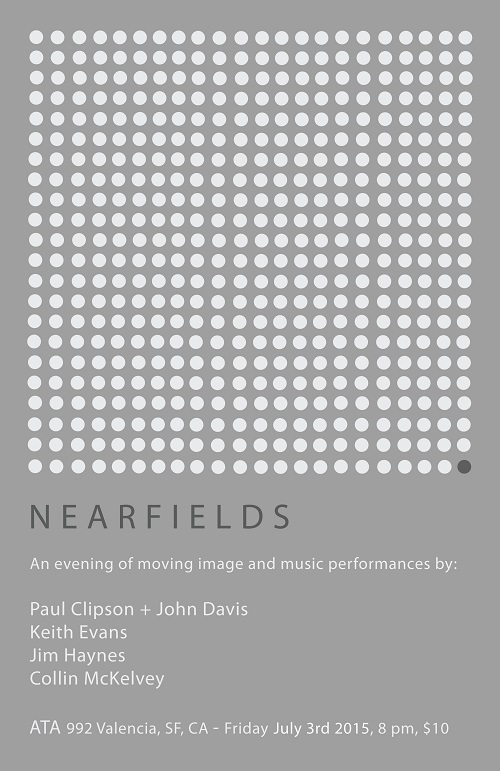 An evening of moving image and music performances by:
John Davis / Paul Clipson
Keith Evans
Jim Haynes
Collin McKelvey
Friday, July 3, 2015 8pm $10
Collin McKelvey is a San Francisco based multimedia artist working primarily in time based media. McKelvey has shown work at the San Francisco Arts Commission Gallery, Southern Exposure, Kala, Royal Nonesuch Gallery, ATA, Human Resources, The Lab, Guerrero Gallery, the Berkeley Art Museum and Pacific Film Archive, The Geffen Center at MOCA and other artist spaces throughout the United States.
Jim Haynes is an artist from the San Francisco Bay Area, working with systems of decay across sound, video, photography, performance, and installation. His work has been exhibited at the San Francisco Museum of Modern Art, Electric Works (San Francisco), Reial Cercle Artístic de Barcelona (Spain), NK Projekts (Berlin, Germany), The Exploratorium (San Francisco), WestSpace (Melbourne, Australia), and Diapason (New York). He was awarded residencies at the Djerassi Residents Artists Program, Cinechamber, Jack Straw Productions (Seattle), and MoKS (Estonia). Recordings of Haynes' work can be found on Editions Mego (Austria), Elevator Bath (USA), Observatoire (Russia), and The Helen Scarsdale Agency (USA). He has enjoyed fruitful collaborated with Steven Stapleton, Loren Chasse, Keith Evans, and M.S. Waldron. 
Keith Evans is an artist and activist who has been working and performing in the Bay Area for 25 years. Collaboration and co-creation has been a core element of his artistic practice having co-founded the experimental cinematic trio silt in 1989 as well as participating in many duos, groups and ensembles including most recently with Thingamajigs performance group. He creates artwork in a cross-media array, using language, graphics, book arts, installation, kinetic sculpture, dance, film, video and sound, primarily for performance or with an expanded idea of performativity. The histories of imaginative media devices for altering consciousness find their way into his performances. His artworks are translation systems, fascination devices, extra-cinematic experiences that reveal the phenomenon and the idea of cinema as an ecology and system–one that is unfixed and accreting, neither nostalgic nor utopian. His work is concerned with the ephemeral and interpretive, the continuums of perception and materiality, drawing attention to our connection with the earth. He interrogates the blurred spaces, those cultural zones of collaboration, participation and translation that are the most determined by language and yet, the most free to query our direct experiences. His work has been presented in galleries, museums and cinemas all over the world including Asia, Europe, Australia and North America. Selections include NYMOMA, CMA, SFMOMA, LACMA and the 2002 Whitney Biennial. He lives in Bolinas with his wife and young son.
http://www.23five.org/archives/keithevans.html
John Davis is a visual artist and musician. His current work builds on the transcendental realities of personal poetic filmmaking, while expanding the relationship between moving image and sound through live performance, collaboration, experimentation and improvisation.
 Paul Clipson is a San Francisco-based filmmaker who often collaborates with sound artists and musicians on films, live performances, and installations. His Super 8 and 16mm films aim to bring to light subconscious visual preoccupations that reveal themselves while working in a stream of consciousness manner, combining densely layered, in-camera edited studies of figurative and abstract environments, in a process that encourages unplanned-for results, responding to and conversing with the temporal qualities of musical composition and live performance. His work has screened around the world in festivals and at sound & film events such as the International Film Festival Rotterdam, The New York Film Festival and the Cinémathèque Française. Later this summer, Clipson will present the feature-length sound/16mm collaboration HYPNOSIS DISPLAY with Liz Harris (Grouper) in Sidney, Brisbane and Melbourne.