Sunday, February 27, 2011, 2:00 pm, $10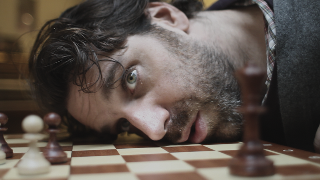 Ivory Tower starring Chilly Gonzalez, Tiga, Peaches and Feist with music by Chilly Gonzalez and Boys Noize, is the story of two brothers and their unhealthy rivalry over both the chessboard and a woman. Hershell is a chess purist, the prodigal son. Thadeus is a disciplined, ruthless competitor. After 4 nomadic years in Europe, in quixotic pursuit of 'Jazz Chess', Hershell returns. Thadeus has become a successful but arrogant Canadian Chess Champion engaged to marry Hershell's former sweetheart Marsha. Hershell challenges Thaddeus in the next Canadian Chess Championship. During the final match, Thadeus is flustered by Hershell's Zen-like demeanor,and sets himself up for certain defeat. Who will be the new Chess Champion? Whose trophy will Marsha be?
Ivory Tower is a tour de force, a series set pieces performed with simple gestures in modulating forms. It's a a Rocky-inspired sports parody; a Sirkean melodrama; a nouvelle Nouvelle-vague Free Jazz riff; a music video; a silent era pastiche. In the end, Ivory Tower's modal composition is the closest we'll get to an explanation of Hershell's esoteric vision for "Jazz Chess". TRT: 75 Minutes
Ticket Info: http://www.ticketfly.com/purchase/event/26101
Plus:
"The Forrest" Directed by Lauryn Siegel
This is the first music video off of Mirah Yom Tov Zeitlyn's acclaimed 2009 album (A)Spera. While Mirah's career spans over a decade and includes four praised albums, this is her first live-action music video ever and her second official music video to date.